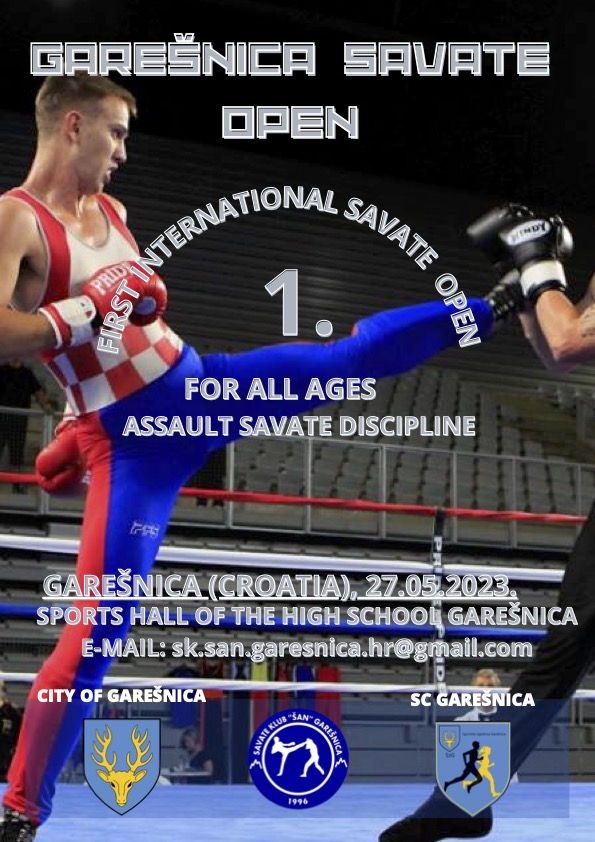 All athletes, coaches, officials and other visitors are welcome to the 1st Garešnica Savate
open.
NAME OF THE COMPETITION: GAREŠNICA SAVATE OPEN
International open tournament for all ages
COMPETITIVE DISCIPLINE: Assaut Savate
THE DATE OF THE COMPETITION: 27.05.2023.
VENUE OF THE COMPETITION:GAREŠNICA (CROATIA) Sports hall of the high school Garešnica Street Petra Svačića 11g
ORGANIZER: SAVATE CLUB"ŠAN" GAREŠNICA
E-MAIL ADDRESS OF THE ORGANIZER: This email address is being protected from spambots. You need JavaScript enabled to view it.
DEADLINE FOR COMPETITOR APPLICATIONS 15.05. – 21.05.2023.
ACCOMMODATION AND FOOD
If you need help about accommodation and food, please contact the organizer and we will
help you.
Hotel and private apartments are available at accessible prices.
For all other questions, feel free to contact the organizer's e-mail:
This email address is being protected from spambots. You need JavaScript enabled to view it.