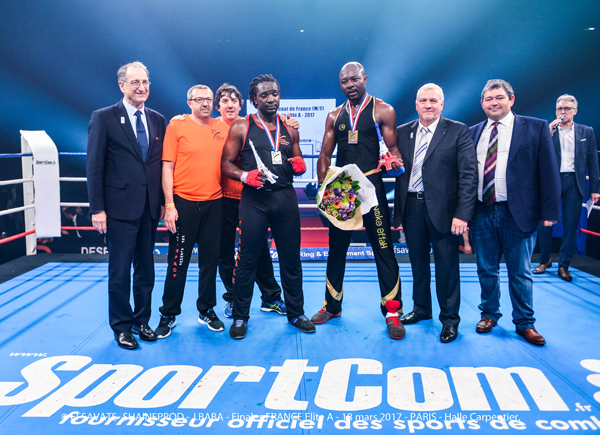 The French Elite A Combat Championship, a major event of the season, was held in Paris on March 18th 2017. Traditionally organized at the Coubertin Stadium, this year the Elite A finals took place in another combat sport temple.The event began at 17:00, in La Halle G. CARPENTIER (Paris - 13th) in front of 4,000 people.
Indeed Georges Carpentier (1894-1975) began his career as a boxer by practicing French boxing. In 1907, at the age of thirteen, he was the junior French champion of this discipline before becoming the first Frenchman to become the English boxing world champion on 12 October 1920 in Jersey City (USA) by knocking out Battling Levinsky.
As in 2015, during this edition, 6 women's fights alternated with 8 men's fights, to promote Women's Sport. In the ring, there was an explosive mix of the experience of the elders and the fire of the new generation.
Among the spectators, the prestigious presence of French sports representatives: Denis MASSAGLIA, President of CNOSF, Isabelle LAMOUR, President of the Fencing Federation (both candidates for the new presidency of the CNOSF) and international representatives of Savate French boxing : Julie GABRIEL (FISav), Mrs LIU (China), Sandrine DE SOUZA (Portugal) .The titles of champions of France awarded during this evening celebrate the best fighters of the season and allow the selection of the best athletes to represent France at the next World Championships which will be held in June. (Selected team)
For the first time, the French Elite A finals were broadcast live on Facebook and Dailymotion, where they are now available for replay.
The live-streaming was viewed by more than 20,000 people.